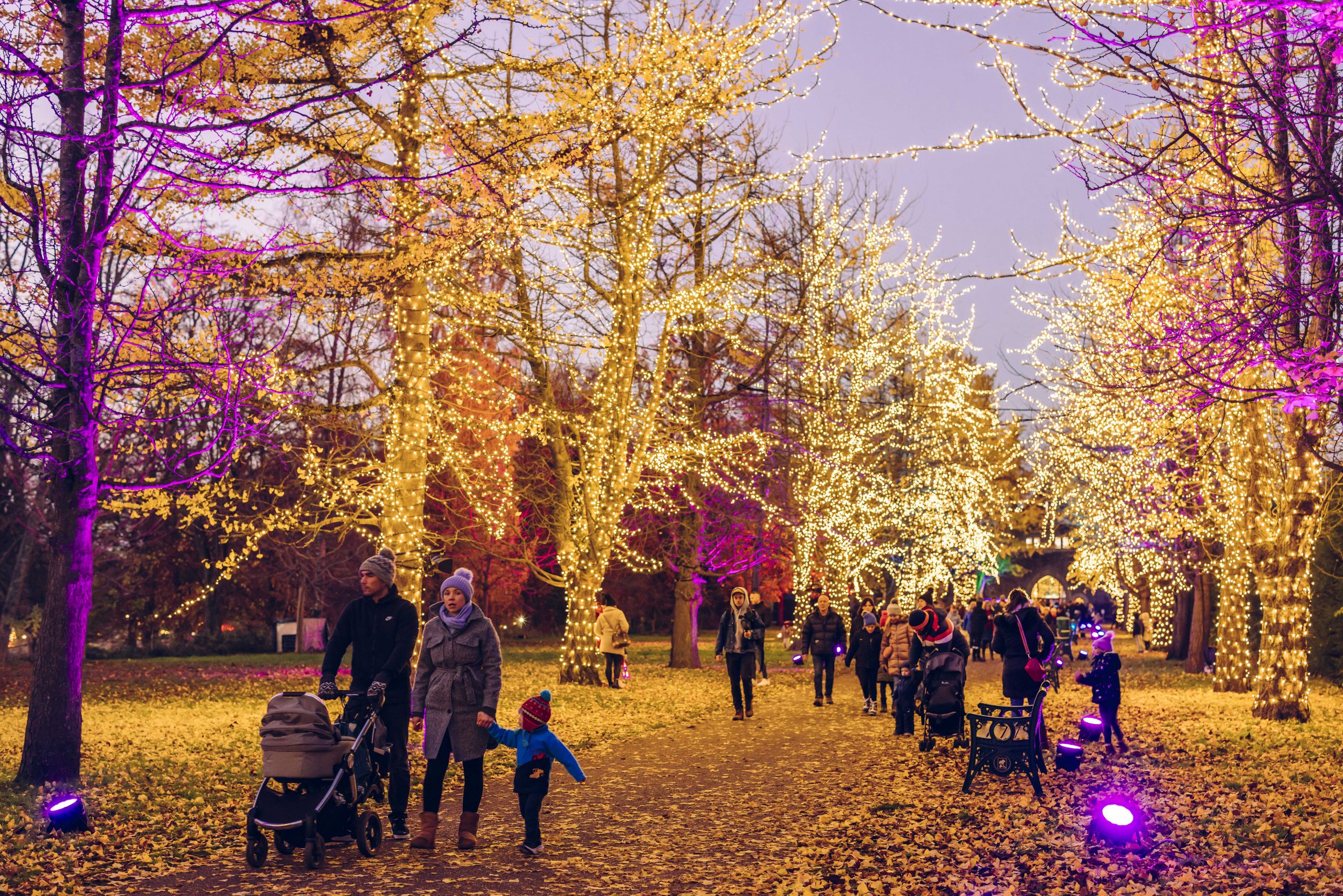 FAQs
ARE TICKETS NON-REFUNDABLE?
Tickets are non-refundable, however, we have partnered up with Tixel as our official re-sale partner. Tixel provide a safe and easy place to sell your ticket to another customer so if you can no longer attend the event, please go here & follow the prompts.
WHAT AGE RANGE IS A CHILD TICKET FOR?
A child's ticket is classed for those aged 2-16. Under 2's are free. A child's off-peak ticket (Mon- Wed) is £13.95 and a peak ticket is £15.95 (Thurs – Sun).
ARE DOGS ALLOWED?
Well-behaved dogs with responsible owners are welcome. Dogs must be kept on a lead at all times and be comfortable with large crowds, loud noises and fire.
ARE THERE FLASHING LIGHTS?
The trail includes pulsing, flashing, and moving lighting effects that may affect people with photosensitive epilepsy.
ARE THERE ACCESSIBLE TOILETS ON ROUTE?
We will have accessible toilets on the route. If you need any assistance during the trail, please ask one of our stewards who will be more than happy to help.
ARE THERE FOOD & DRINK STALLS?
Yes, NEW for this year – our food & beverage hub will be accessible from the beginning and end of our trail. There is food and drink also available throughout the trail, so come hungry! From snacks to a full 3-course meal, we've got you covered. There are a number of bars serving winter warmers including mulled wine and hot chocolate. Our marshmallow stand sells marshmallows to toast over our flaming BBQs. This year, there will be a huge selection of street food traders ready to feed the whole family, from Hot Dogs to Indian, Churros to Brownies and Burgers to Pizza, there is something for everyone. Check out our 2022 food & drink section on our website for more information.  All food & drink traders take card payments only, the event is fully cashless.
DO YOU HAVE ANY QUIET SESSIONS?
Our quieter sessions will take place on Thursday 7th December (4:15pm, 4:30pm, 4:45pm & 5pm slots) and Friday 15th December (4:15pm, 4:30pm, 4:45pm & 5pm slots). These sessions are for those with additional needs, who will benefit from a quieter and softer experience, with reduced crowds.
HOW LONG IS THE TRAIL?
The trail is a mile and a half long in length and will take approximately 60 minutes to walk around. We will allow camping chairs/small folding chairs to be brought into the trail, if you need to sit down during the trail route.
HOW MANY PA TICKETS CAN I OBTAIN?
A disabled person purchasing a ticket can obtain 1 free Personal Assistant ticket (all tickets must be pre-booked through our ticketing site).
FAST TRACK ACCESS
Fast-track wristbands are available to people with additional needs, and their personal assistants. This will allow access to the event and to purchasing food and drink without queuing. Wristbands can be collected on arrival at our info point, located at the start of the trail. Please either show a valid ticket or let staff know why you need the queue jump.
HOW LONG CAN WE STAY AFTER THE LIGHT TRAIL?
For as long as you like! The Trail and associated catering outlets will close no later than 90 minutes after the final advertised trail time on any given event night.
IS THERE DISABLED PARKING?
For disabled parking, we recommend the North Road car parks. There is some disabled parking directly outside the park but the spaces can be very limited. We don't have the capability for customers to reserve this. Please also visit our Getting Here page for information on how to get here.
IS THE EVENT WHEELCHAIR ACCESSIBLE?
The pathways throughout the light trail will be accessible to wheelchair users. Please be aware that some areas may have some uneven flooring as we are on a public park site. Accessible, disabled toilets will also be available on site.
I CAN NO LONGER ATTEND MY SELECTED DATE & TIME, CAN WE SWAP MY TICKETS FOR A DIFFERENT DATE?
Yes, you can change your ticket up to 48 hours prior to attending. To change your booking contact See Tickets at https://www.seetickets.com/customerservice.
Alternatively if you can no longer attend the session, we have partnered with Tixel for safe resale transactions.
To sell your ticket safely, visit Tixel and follow the prompts.
HOW COST EFFICIENT IS THE LIGHT TRAIL IN TERMS OF ENERGY?
99% of the bulbs are LED with the remaining 1% being high efficiency low-energy lighting. All generators are powered by Green D+, renewable and sustainable biofuel. The lights are turned on at approximately 2pm. This allows maintenance and repair, plus daily operational and safety checks to be carried out before the trail opens to the public at 4pm.
While we do have an increased energy cost compared to last year, it is manageable and is covered by our income from tickets.
WHY ARE TICKET PRICES HIGHER THIS YEAR?
Like other businesses, Christmas at Bute Park has seen a rise in costs, from energy prices rising to an increase in the costs of staff and infrastructure. We're working really hard to try and minimise the effects of this on our customers.
While there has been a rise in some ticket prices, we've introduced Standard and Off Peak ticket times, available at the same price as our 2022 slots from Monday through to Wednesday each week. Our early bird discount scheme also means those signed up to our newsletter are able to buy tickets with a limited 20% discount included this year again too.
There is also more on offer than ever at Christmas at Bute Park this year. Our 2023 trail is longer, with more than 2km of festive fun and a brand-new lay out of installations for returning customers to enjoy too.
WHAT IMPACT DOES THE EVENT HAVE ON NORMAL PUBLIC ACCESS TO THE PARK?
We are pleased to say that hosting the Christmas at Bute Park trail has limited impact on normal public access to the park. Visitors to Bute Park can enjoy the site in the normal way during daylight hours throughout our hire period.
Bute Park is locked 30 minutes before dusk throughout the year, and for the period of the trail, the normal park locking time is 3:45pm. However, a section of the park will be closed off slightly earlier so it can be prepared for re-opening to trail ticket holders.
An evening-only cycle and "active travel" diversion is in place whilst the trail is in operation. This maintains what is an important route across the city centre. As park visitors will know, the east-west designated commuter route ordinarily stays open, even after park locking, to provide a useful route for active travellers. We are pleased to have been able to maintain this popular route by implementing the diversion. In daylight hours, when the park is open as normal we advise the usual path is used for people's convenience.
WILL THERE BE ANY NEW INSTALLATIONS FOR 2023?
Yes, 80% of the light trail will be brand new installations.
WHERE IS THE NEAREST CAR PARK?
There is no on site parking at Bute Park, however there are a variety of car parking facilities nearby.
Pay and display car parking facilities are available nearby in Castle Mews (CF10 3ER) and North Road (CF10 3EA), College Road, King Edward VII Avenue & Museum Avenue.
Download the Park Cardiff app to help you find a place to park in Cardiff using live information from the Smart Parking sensor system that has been installed into parking spaces around the city. Links to download the Park Cardiff app and more details can be found here. Or you can visit Cardiff.gov for further details about parking by Bute Park.
WHAT PRECAUTIONARY MEASURES ARE BEING UNDERTAKEN TO ENSURE THE TRAIL DOES NOT HAVE ANY ADVERSE IMPACTS TO ITS SETTINGS?
The trail takes its responsibility for working in such a valuable setting seriously. The trail will improve access to the site and actively celebrates the park's heritage features and tree collection. Both an independent tree and an independent ecology specialist were commissioned by the trail to ensure flora and fauna are not negatively impacted by the trail. They have worked with us to develop appropriate methodologies and ensure the trail production adequately mitigates any risks. The conclusions of our independent consultants are included below for reference.
Treecare Consulting said: "The light trail is using areas of the park not commonly used. The lighting needs also mean that trees feature heavily in the support for lighting systems. On this basis, Treecare Consulting has undertaken a further tree safety assessment (specific to the trail) in addition to the normal Cardiff city council tree safety assessments. The public safety need for the trail has highlighted some key areas of tree work required. Some trees within the park have age related defects that have been considered and where required management specifications recommended to ensure the greatest level of safety for the event yet retain the important tree collection to its fullest.
Removal of dead wood over paths used by the trail is also being carried out. The expected high volume of pedestrians in the vicinity of trees means that loose or unstable sections of dead wood has to be removed.
All trees within the park arboretum are treated with the greatest respect. Therefore there is a positive schedule of recommended tree work that will help maintain trees for the light trail and also the long term future of the public visiting the park.
Treecare consulting have worked closely with the Christmas at Bute Park trail team to ensure all their lighting works are undertaken with a methodology that protects tree health. The site team have experience of working in similar settings (e.g. Kew Gardens) and are competent to undertake the work. Dead trees and branches identified along the trail will be felled in advance of the trail opening to manage risk and promote the safety of the trail audience. This is positive maintenance of the arboretum collection and will allow it to be enjoyed by visitors in the best possible condition. We can assure visitors that all recommendations will be followed.
WHAT IS THE LAST ENTRY TIME INTO THE TRAIL?
The last entry into the trail is at 8:30PM. After this, ticket-holders will not be permitted to enter.
WHAT ARE THE GROUND CONDITIONS LIKE?
The ground conditions at Christmas at Bute Park are suitable for wheelchair users. The route is mostly on even ground, with a small number of ramped areas. There is a mixture of hard paths and temporary matting used.