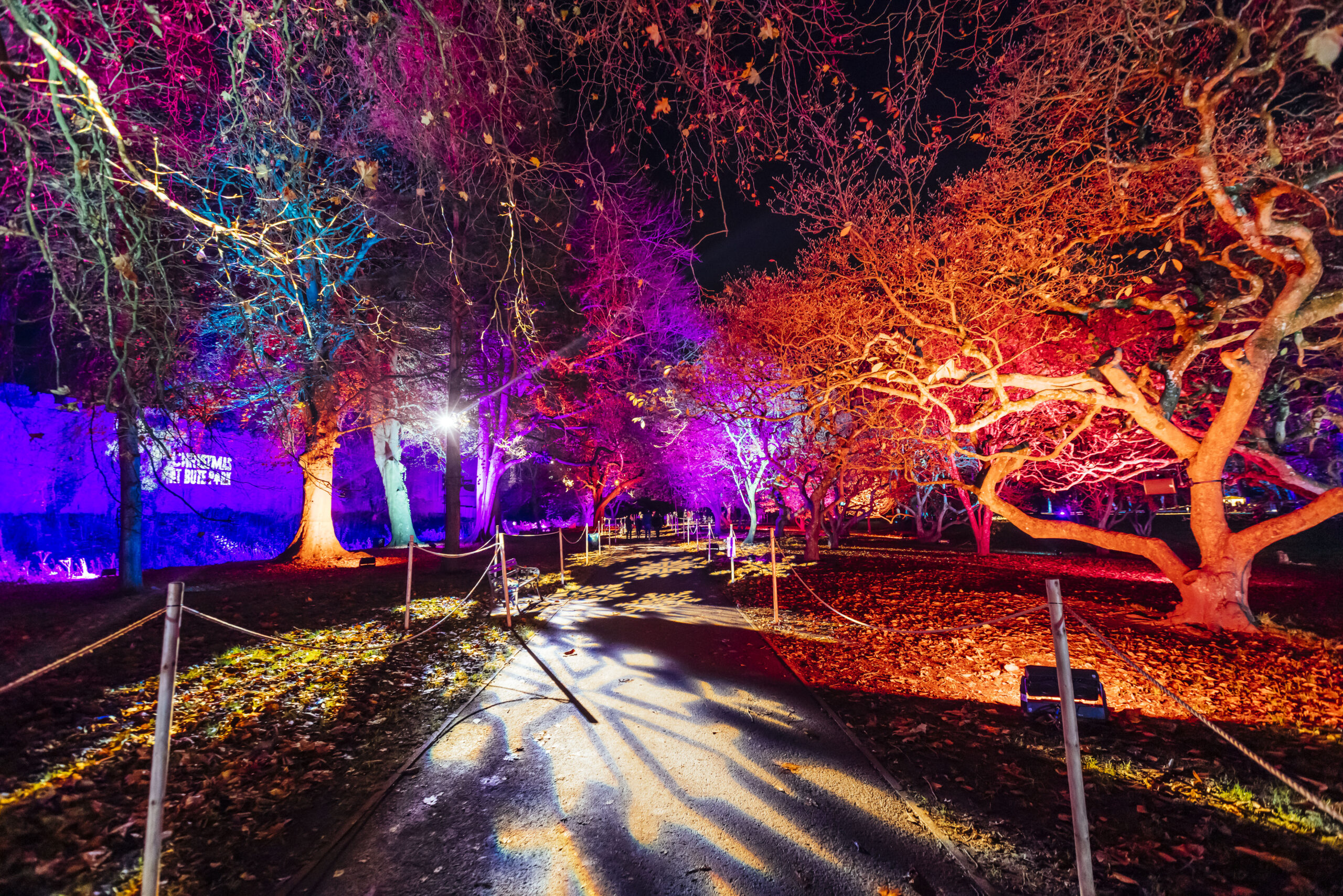 FAQs
ARE THERE ACCESSIBLE TOILETS ON ROUTE?
We will have accessible toilets on the route. If you need any assistance during the trail, please ask one of our stewards who will be more than happy to help.
DO YOU HAVE ANY SENSORY SESSIONS?
Our quieter sessions will take place on Thursday 8th December (4:15pm, 4:30pm, 4:45pm & 5pm slots) and Thursday 15th December (4:15pm, 4:30pm, 4:45pm & 5pm slots). These sessions are for those with additional needs, who will benefit from a quieter and softer experience, with reduced crowds.
HOW LONG IS THE TRAIL?
The trail is 1.4KM in length and will take approximately 60 minutes to walk around. We will allow camping chairs/small folder chairs to be brought into the trail, if you require to sit down during the trail route.
IS THERE DISABLED PARKING?
For disabled parking, we recommend the North Road car parks. There is some disabled parking directly outside the park but the spaces can be very limited. We don't have the capability for customers to reserve this. Please also visit our Getting Here page for information on how to get here.
HOW MANY PA TICKETS CAN I OBTAIN?
A disabled person purchasing a ticket can obtain 1 free Personal Assistant ticket (all tickets must be pre-booked through our ticketing site).
WILL THERE BE ANY NEW INSTALLATIONS FOR 2022?
Yes, 80% of the light trail will be brand new installations.
WHERE IS THE ENTRANCE TO THE EVENT?
The trail takes place at Bute Park and Arboretum, North Road, Cardiff, CF10 3DF. The Trail starts from The Mews next to the Royal Welsh College of Music and Drama. The nearest postcode to the entrance is CF10 3ER. The Trail cannot be accessed from any other location including from any other Park gate.
WHERE IS THE NEAREST CAR PARK?
There is no on site parking at Bute Park, however there are a variety of car parking facilities nearby.
Pay and display car parking facilities are available nearby in Castle Mews (CF10 3ER) and North Road (CF10 3EA), College Road, King Edward VII Avenue & Museum Avenue.
Download the Park Cardiff app to help you find a place to park in Cardiff using live information from the Smart Parking sensor system that has been installed into parking spaces around the city. Links to download the Park Cardiff app and more details can be found here.Or you can visit Cardiff.govfor further details about parking by Bute Park.
HOW LONG CAN WE STAY AFTER THE LIGHT TRAIL?
For as long as you like! The Trail and associated catering outlets will close no later than 90 minutes after the final advertised trail time on any given event night.
IS THE EVENT WHEELCHAIR ACCESSIBLE?
The pathways throughout the light trail will be accessible to wheelchair users. Please be aware that some areas may have some uneven flooring as we are on a public park site. Accessible, disabled toilets will also be available on site.
ARE DOGS ALLOWED?
Well-behaved dogs with responsible owners are welcome. Dogs must be kept on a lead at all times and be comfortable with large crowds, loud noises and fire.
I CAN NO LONGER ATTEND MY SELECTED DATE & TIME, CAN WE SWAP MY TICKETS FOR A DIFFERENT DATE?
WHAT IMPACT DOES THE EVENT HAVE ON NORMAL PUBLIC ACCESS TO THE PARK?
We are pleased to say that hosting the Christmas at Bute Park trail has limited impact on normal public access to the park. Visitors to Bute Park can enjoy the site in the normal way during daylight hours throughout our hire period.
Bute Park is locked 30 minutes before dusk throughout the year, and for the period of the trail, the normal park locking time is 3:45pm. However, a section of the park will be closed off slightly earlier so it can be prepared for re-opening to trail ticket holders. The area affected is shown in the map below and will be closed off from 3pm instead of 3:45pm. The area used by the trail and shown in the map below is open for normal public access between 7am and 3pm.
An evening-only cycle and "active travel" diversion is in place whilst the trail is in operation as also shown on the map below. This maintains what is an important route across the city centre. As park visitors will know, the east-west designated commuter route ordinarily stays open, even after park locking, to provide a useful route for active travellers. We are pleased to have been able to maintain this popular route by implementing the diversion shown. In daylight hours, when the park is open as normal we advise the usual path is used for people's convenience.